Canada: Sunday, October 08, 2017

Fathom Events
Fathom Events, Azoland Pictures and Sentai Filmworks are thrilled to bring the next installment in the exciting anime franchise No Game No Life Zero to movie theatres nationwide on October 5 and 8 only ! Six thousand years before Sora and Shiro were even a blink in the history of Disboard, war consumed the land, threatening to wipe out the human race. Amid the chaos, a young man named Riku leads humanity toward the tomorrow his heart believed in. One day, he meets Shuvi, a female exiled "Ex-machina" android who asks him to teach her what it means to have a human heart. This two-day event also includes exclusive content featuring special footage of members of the cast and crew of No Game No Life Zero.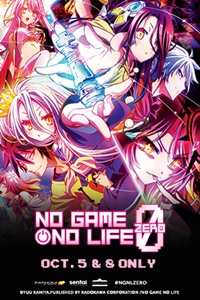 Cast & Crew
User Reviews
Public Reviews - 0 Reviews
There are no reviews for this movie.